Comments and Testimonials From Binghamton Guitar Lessons Students
_____________________________________________________________________
_____________________________________________________________________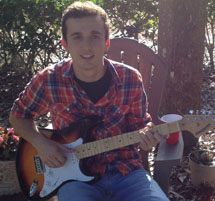 "I just wanted to thank you much for teaching me how to play the guitar and opening my eyes to music. You're such a great guy and I really enjoyed every lesson I took! You were a wonderful teacher and I'm so glad I had the chance to know you."

- Jack Worobey

_____________________________________________________________________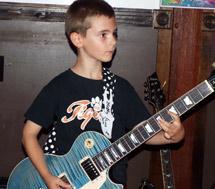 "Paul can really work with just about ANYONE. We came to him with a 6-year-old kid who was playing stock pentatonics and hanging out in one or two favored positions with little variety, and within a few lessons he was all over the neck, adding notes to his scales, and mixing it up very nicely. Paul has been very professional and accommodating, even when our son with autism had a mini-meltdown over a tricky Chuck Berry lick that would've probably sent most teachers running. He also finally convinced our son to use a pick which he'd previously resisted that has allowed for speed and techniques that wow crowds and have added a new dimension to his gigs.
If you've got a challenge (can't get that bend? bonking the wrong string during a solo?), Paul has a trick to overcome it. And all of this in just a few months! Paul is highly recommended if you want to take your playing to the next level and is just a super nice guy as well."

- Jimae Hubert
_____________________________________________________________________
_____________________________________________________________________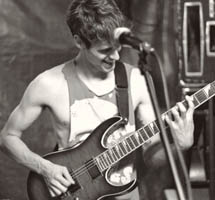 "Before I started lessons with Paul, I was mediocre at best. I had the passion to become better guitar player, and he gave me the tools to reach my potential. After I stuck it out I found myself playing songs I never thought I could play, writing riffs I never thought I could write. Without Paul teaching me the things that he did, I don't think I'd musically be where I am today, and for that I thank you Paul."
- Thomas Lewis (Lila Ignite, Tom Jolu, Sunset Surrender, Ruby Mae)
_____________________________________________________________________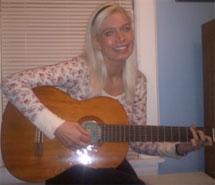 Working with Paul has been a great experience for me over the past few months. I started off with absolutely no guitar experience. Paul is very patient and supportive. He takes the time to be encouraging and makes you comfortable, regardless of your skill level. I would recommend Paul to anyone just starting out with guitar. -Leia O.
_____________________________________________________________________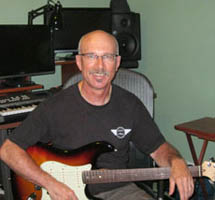 "I was a somewhat experienced guitar player when I started taking lesson from Paul. My goal was to expand my knowledge of the instrument by learning some music theory and new techniques. I was immediately impressed with Paul's ability to detect my strengths and weaknesses and to quickly form lesson plans accordingly. Paul taught me new fingering techniques and exercises as well as new scales and chords and the theory behind them. Paul's teaching methods have also allowed me to immediately incorporate the things I am learning into my own playing style and the music I am interested in playing.
I am also impressed with Paul's knowledge of guitars and the music industry in general. I have learned a lot about playing in a band, recording, guitar maintenance and modification, amplifiers, and effects pedals in my lessons with Paul.
Paul also goes the "extra mile" with his students, often organizing impromptu jam sessions etc. with several students in attendance giving us experience playing with other musicians.
Most of all, I have a lot of fun along with the serious instruction that goes into learning to play the guitar. I highly recommend Paul as a guitar teacher to anyone who currently plays the guitar and wants to learn more, or is just starting out."
- Tom Spencer (Guitarist - Live Animalz, White Rabbit, Bulletproof)
_____________________________________________________________________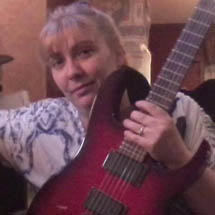 "It is us (your students) who are blessed to have such a gifted, encouraging, patient teacher. Paul you ARE the lord of the strings, I'm glad to have had that whim to google guitar lessons, and follow through on a dream. It's one thing to appreciate music, but so much better to BECOME the music!"
- Naomi Collins
_____________________________________________________________________
You can learn to play guitar!

_____________________________________________________________________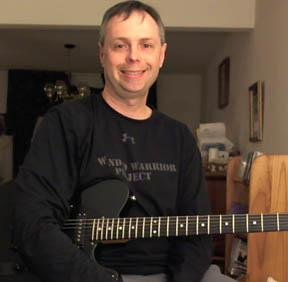 "I started playing in college, on and off in a cycle of high motivation, frustration, disinterest - rinse and repeat. When I called Paul last summer, I had been in a pretty serious rut. I hadn't played much after my deployment to the middle east. Attempts to get myself back on track weren't very successful. The truth is, playing had become a chore, a combination of drills and crappy improvisation. I wasn't learning anything, I wasn't challenging myself, so I wasn't making any progress. I had never considered even the possibility of playing anything written by Jimmy Page before. Always thought it would be too hard. And really, that was the problem. I just recently saw a You Tube video of a guy playing Deep Purple's Lazy. No kidding, I thought to myself, I can do that. I wouldn't have thought that last year.

It is no exaggeration to say that I play 2 hours or more a day now. I am constantly learning new things, playing songs I never thought I could play and enjoying the entire experience. The scale and chord drills are even enjoyable.

Teaching chords and songs is par for the course, it's what any guitar teacher should be able to do. Infecting a student with your own enthusiasm is something entirely different and something that not everyone could have pulled off. It is the difference between a student picking up a guitar once in a while and making the instrument an integral part of their lives, for the rest of their lives. So. you have in a very real sense changed my life. My 3 year old daughter will not only grow up with parents that listen to music; but, parents that make music. One has to wonder how this change in my life will change hers? Thanks Paul." - Ed Froncek
_____________________________________________________________________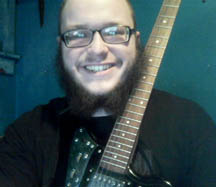 "I've been "playing" guitar for the past few years, and by playing I mean throwing random power chords together until something that wasn't terrible came out. I found myself frustrated with my lack of knowledge and limited grasp of my instrument. Then I started taking lessons with Paul. The difference after just a few short months is amazing. Under his instruction I've been opened up to a whole new world of possibilities, playing in ways I had never thought of before. Paul's all about giving you the tools you need to build great things. He sees the potential in every person to be a great guitar player and, if you're willing to do the work, he's there to help you every step of the way." - Adam Metzar (Lila Ignite, Ruby Mae, Tom Jolu)
_____________________________________________________________________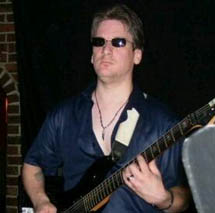 "I took lessons with Paul so I could have a few more tools to incorporate into my style & he helped me accomplish that. Paul is very dedicated in his approach to teaching. No matter what skill level you are at Paul will take you to the next level."
- Dan Almy (Guitarist – OCD, Release, Undertow)


_____________________________________________________________________

_____________________________________________________________________
"Growing up a novice guitar player, I was fortunate enough to meet Paul Tauterouff. Paul quickly became a major inspiration to me. Many bands and many years later I found myself in a learning rut. I heard Paul was giving lessons and I decided to give him a call. At my first lesson Paul asked me what I planned on gaining from my lessons. I told him my goals and what I wanted. He evaluated what I knew and quickly came up with a lesson plan that enabled me to grow as a musician. Paul broke my bad habits and helped me to hone the skills I already possessed enabling me to reach my musical goals. This helped me to move in the direction I wanted to go. I still take lessons from Paul when I'm on break from recording and playing with my band. I sincerely value all the time I spend learning from him as well as his friendship."
- Tom Madden (Guitarist - Elevator Death Squad)
____________________________________________________________________
"I am fifty years old and I have loved music my whole life. One day my friend picked me up and said, I need to go to a guitar store. We walk in a store and wow, I saw all these guitars staring at my face. I walked out having bought a Fender Squire Strat HSS. My friend and my son both played my guitar but, I did not know what to do with it. I called around and talked to a few guitar instructors. The last one a called was Paul Tauterouff. We talked for a while and I scheduled a lesson. After my first lesson I knew that he was the guy. He showed me a lot of different things like holding the guitar correctly, holding a pick the right way and many other things I needed to know. One big thing is that he made me feel less nervous. He has so much patience with me, because I am a nervous person and may not be the fastest learner. I am so glad I picked him because he just a nice, easy going guy. He taught me a lot in the last few months. I am really glad that I picked Paul for lessons, He is a real pro. My family cannot believe how far I come in playing my instrument since I started my lessons. Since then I have bought three other guitars. I love playing guitar. Thanks Paul for all your help." - Jeff Cannon

"My time studying guitar with Paul has been the most rewarding I've yet spent as a guitar student. He has a way of making the complicated seem simple, and fun, at the same time. I am thoroughly enjoying the lessons and have made significant progress in understanding the fretboard and theory behind what I want to do. On top of everything else, Paul is a cool dude to spend time with!!" - Dennis Rockefeller (Endicott, NY)

"I've been playing guitar for many years, just learning other people's stuff, strictly a "bedroom player". When I decided I wanted to play out a little, I felt "stuck", not really knowing how to create my own music. So, I came to Paul to kind of "jump start" my playing. And he has done exactly that. Paul has a great way of putting musical concepts into a very understandable form, particularly scale/chord relationships. He's very engaging, and knows how to push you, without being "pushy". His years of stage and studio experience give him a well-rounded repertoire of ideas to draw from. Thanks Paul!" - Don Cashimere (Endwell, NY)

"I have always been interested in the guitar but had no clue about the instrument until I met Paul. He has taught me everything from theory to playing techniques. Paul pays extremely close attention to how you play and corrects you to maximize your playing ability. He is always open to suggestions which make his lessons fun to go to. Not only have I learned a tremendous amount about the guitar from him in the past three years, he has also introduced me to some of my now favorite artists. I would definitely recommend Paul Tauterouff to anyone looking for guitar lessons. He isn't just an awesome teacher, he's a great friend." - David Oliveri (Chenango Bridge, NY)

"Learning guitar is so much fun, and Paul is an awesome teacher. I started taking lessons over one year ago when I knew nothing about music, except that it was fun to listen to and might be cool to learn. The first and only instrument I have ever played is a guitar. I was never in band at school or even held a guitar before I started taking lessons. After my first lesson with Paul I knew that I wanted to play guitar for the rest of my life, and I worked hard to get better. Now I get a lot of compliments about how good I have become. The lessons are a lot of fun as well as educational. I'd recommend Paul as a teacher to anyone who wants to learn how to play guitar or improve their skills." - Amanda C. (Chenango Bridge, NY)

"I have been receiving lessons from Paul for about three years. When I started I knew some music, but nothing about guitar. In the three years I have been receiving lessons from Paul, I have gone from only being able to pick out one note at a time, to playing full songs and being able to improvise to just about any form of music. He is a patient teacher and skillful player who has a knack for explaining music in terms of my individual style of music." - Dave Passante (Endicott, NY)
Are you ready to become the guitarist you want to be?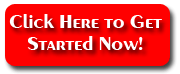 "I have been taking lessons from Paul for almost three years now and it has improved my playing tremendously. Before I started taking lessons from Paul I only knew a few chords and about two parts of a song, but now I am able to play music from my favorite bands as soon as I get the music, I am able to play solos with ease. And have the ability to write songs of my own. He has improved my playing and increased my confidence enough to play in several performances, school musicals and band performances with complete confidence in myself. He makes music easy and fun to learn even the most difficult concepts, and it can be surprising how much you learn and how fast he will help you to learn a new skill. I would suggest lessons with Paul for guitarists of any level who wish to push their playing beyond their own expectations." - Kyle Aldrich (Hallstead, PA)

"I have been taking guitar lessons from Paul Tauterouff for about 10 months. When I came to Paul I barely knew anything except a few chords and how to beat on my acoustic. In the past ten months I have learned so much, from some of my favorite songs to advanced music theory. And that is only ten months. Paul is very interested in what his students want to learn and not just what he wants to teach. I would recommend Paul to anyone interested in advancing their guitar skills. He's not just a teacher he's a friend. Thanks Paul for everything."
- Kris Klenotiz (Owego, NY)

"I began playing bass about two years ago and I thought I went along well enough on my own for the first few months but then I started taking lessons from Paul. Almost as soon as I began I could see a difference in my playing ability. Paul started me off doing things the right way so it wouldn't hinder me later on. I learned so much from him beginning from simple technique to more advanced forms and probably the most valuable thing I learned was the theory. I am currently a student at SUNY Broome majoring in audio engineering and I started off halfway ahead in my music theory class simply because of the lessons I have taken from Paul. He has definitely been an amazing teacher and was always willing to try and teach me anything I asked to learn from him. I would recommend him to anyone willing to learn about guitar. As of right now I am in three different bands, one band we just got a music studio and pay for our own practice room there, another one already has a number one song across the country on guitar center radio (which is where we work), and finally I have a punk band that gigs around the Albany area. I would not be where I am today nor would I be able to do any of that if I had not taken my lessons from Paul."
- Alex O'Connor (Mobday - Chenango Forks, NY)

"Working with Paul was the best decision of my career as a musician, he taught me everything I need to know to become a great bassist from finger skills to music theory and everything in-between. Paul can and will teach you everything you need to know, and that's quite a bit!"
- Lewis Chezebrough (Technicolor Winter)

"My son has been taking lessons from Paul Tauterouff for over a year now. Paul has not only taught David the complexities of the electric guitar, but how to really focus on the music and to understand the importance of practice, something that has carried over into all parts of his life. Paul has always been encouraging and flexible..... When my daughter decided that she wanted to take lessons, Paul scheduled her and my son for back to back weekly lessons, and he persuaded my son to let her use one of his guitars... something I wasn't able to do! After a few weeks I asked her how she liked her new instructor, and she said, "he's cool!" High praise from a teenager. I highly recommend him." - Nancy O., Chenango Bridge

"Mitchell is really enjoying guitar, we so know this is a compliment to you! Thanks !!! ... Fondly,"
- Maureen and Terry B (email from parents of a 10 yr old student)
Would you like to experience these kind of results?